CAMBRIDGE INNOVATION
PARKS WELCOMES YOU
WELCOME TO THE NEXT GENERATION OF INNOVATIVE WORK SPACES...
Investing in Great Environments
Founded in 2018, Cambridge Innovation Parks has played host to numerous success stories, many of which have been built upon the power of confident collaboration…establishing an ecosystem that can deliver a truly positive impact.
Our mission is to provide entrepreneurs and businesses alike with environments rich with the knowledge and knowhow needed to build global, transformational companies…something that Cambridge is more than a little famous for.
Today, effective space is not just somewhere to sit quietly and get on with work. It's a place where communities come together; create excitement and experiences; and ensure that they are more than the sum of their parts. To do this we are working with award winning designers and innovators to deliver truly inspiring environments driven by our Environmental, Social & Governance (ESG) goals.
To achieve all of this, we have developed an extensive network of collaborators providing our community with easy access to the right insight, support and funding knowledge to help identify and pursue the most attractive opportunities with long-term potential. 
 To learn more, contact us today.
Featured
Cambridge Office & Lab Space available now
Recently expanded...Our Innovation Epicentre space for "Start Up" and "Scale Up" businesses
Our Innovation Epicentre has just doubled in size…and that means far more flexible solutions for both new and existing clients.
The goal of the Innovation Epicentre is to provide the initial touch point for organisations looking to join our Cambridge-wide Ecosystem. It's not just a space to work but instead it's the place to come, collaborate and find access to a range of likeminded individuals, easily accessible advisors and common business support facilities.
We recognise that post-Covid, the working world has changed. Anyone can find a quiet space to write a report or similar…what they can't find is the right environment to collaborate will clients, colleagues and advisors. We're responding to this by creating a whole range of spaces that do just that. Whether it's "Hot Desks" or "Virtual Offices"; a range of different size meeting rooms; Conference and Training Facilities, we have them. Over the next year, we will be taking some of our largest areas and creating experience spaces. We've just submitted a planning application that showcases what a sustainably modernised space could look like but ahead of that, we've commenced an exercise to re-fresh our Atrium, bring in modern Cafe Chic areas for networking and add some 8 or so new meeting spaces.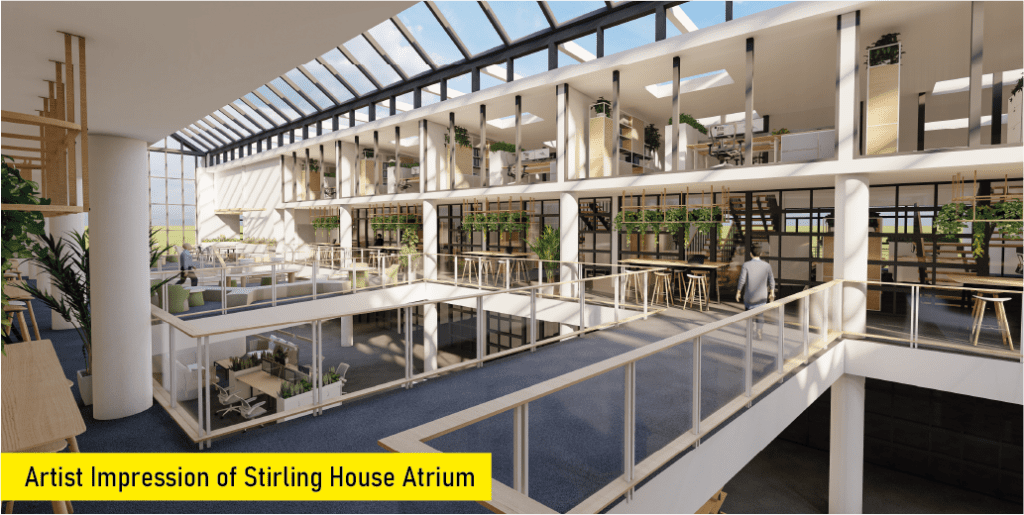 Innovation Epicentre Pricing
Category A (Standard 1 person office) - from £375 pcm

Category B (Standard 2 person office) - from £475 pcm

Category C (Executive 2 person office) - from £550 pcm

Category D (Standard 3 person office) - from £600 pcm

Category E (Executive 3 person office) - from £650 pcm

Hotdesks and permanent desks - from £15 per day

Meeting Rooms from £15 per hour slot
Contact Jane Cook at jane@paragon.land to book your viewing today
...whether it's our "Foodies Market", our "Quarterly Business Briefings" or our six monthly "Meet Your Neighbours", contact us at info@paragon.land for more details